PROJECTS BY JOSHUA HAMPSON
About Me
I'm currently studying game development & design using the
Unity Game Engine with the coding language C#

I have experience using Unity Game Engine, Blender 3d, Animation, Physics Libraries
C#, VR Motion Capture, Sound Design.

My Projects
UNDERCOOKED SLICES | DEMO
A fangame of that merges both Tour De Pizza's "Pizza Tower" with Toby fox's "UNDERTALE" to create an epic fight that hands itself to both of the games highest qualities
One Night as Freddy
Created for the Game Makers Toolkit 2023 48 Hour Gamejam under the theme "Roles Reversed".
One Night as Freddy intends to give a faithful and fun twist on the Five Nights type of gameplay by instead giving you control of an Animatronics from the original game instead of the usual POV of a Nightguard.
DELTASWAP | PROOF OF CONCEPT
A fangame of the Existing game "DELTARUNE" which reimagines the characters and their traits swapped with matching or opposite characters. This game is Free and does not intend to infringe on Toby Fox's "DELTARUNE".
ROBLOX UGC Concepts
This page contains many hats and designs for the Roblox UGC (User Generated Content) Program that has designers and developers create their own cosmetic accessory's to be purchased and worn by users in-game.
Head to Concept Gallery
Project: Beat The Wall
My inspiration for this game, is you must complete the level in order to share to the next person kind of like a chain letter. Once you complete the level you challenge your friends to see how many attempts it takes them. Working project.
WEB GL VERSION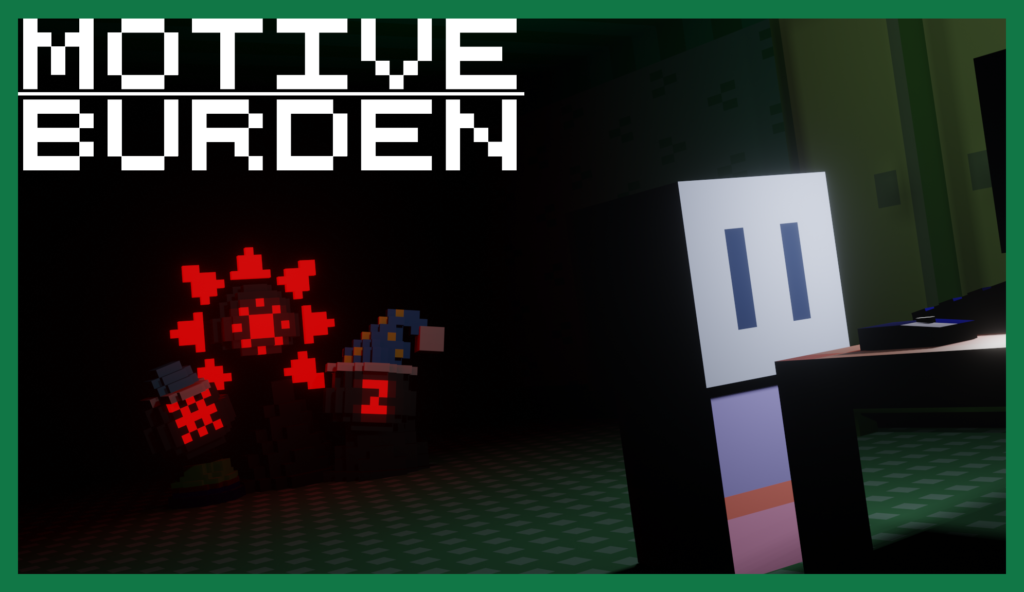 Motive Burden
Motive burden, a Survival game about the mental struggle of making a video game!
Slowly type code through out the night with your deadline being at 6 AM, Yes that horror trope! You may not be alone however as you slowly encounter Monsters that try to stop your progress!
Download Link from Itch.io